ARMBIKE Handcycle/handbike
Attach and RIDE!!
"When you're living with a disability, every piece of freedom you get back is life changing"
"The ARMBIKE wheelchair attachment could be exactly what you need to get active and moving again"
Justin Mendel, Armbike owner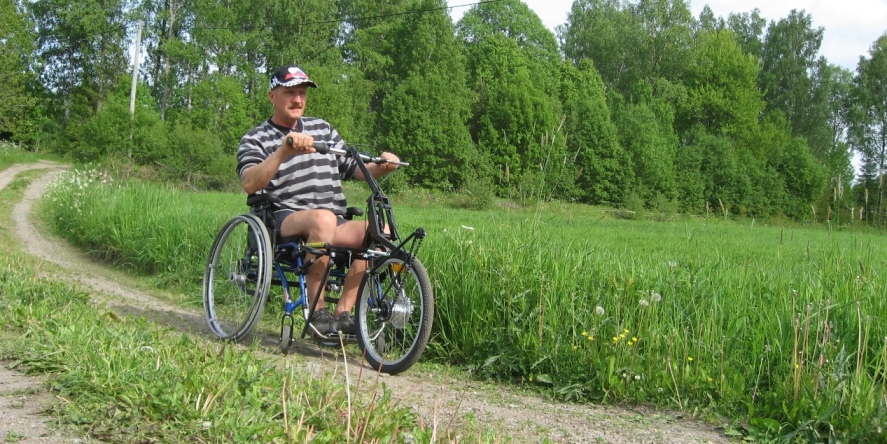 Armbike kit is an arm-powered bicycle that attaches to your wheelchair
Attaches & Detaches quickly and easily from your wheelchair.
The armbike has excellent turning radius.
20" front wheel whit 8 gears in hub.
Left hand brake to front wheel.
Attachment weight is approx. 22 lb.

Watch the video and be amazed!!!
ARMBIKE in Action
Attach and ride Armbike kit
Armbike kit in the wood
Armbike kit in Stockholm
Armbike with one-hand handlebars
How to connect the Armbike kit
Armbike 20" 3-wheel hand cycle
The fair/Hjultorget 2010
The Street Surfer
David Smit of Holland makes little reportage around the world.
He was home to me in Järlåsa and filmed a bit when he and I were out on the respective armbike kit.
So was the video: A Day in Järlåsa
More clips from David Smits website: heycrip.com

Armbike Hand-powered trike 12-28"
Seat fully adjustable with seat belt.
Double handbrake w/bell.
Foot plate with toe clips and straps.
Colors: Black
12 & 16": 0 gears
20 & 28": 8 gears

ARMBIKE 12´´ Children bicycle 1,5-4 years / Person length: - 105cm
ARMBIKE 16´´ Children bicycle 4-7 years / Person length: 105 - 135cm
ARMBIKE 20" Children bicycle 7 years and upp / Person length: 135 - 160cm
ARMBIKE 20/28´´ Person length: 155 - 190cm
Front wheel is 20 "and rear wheels 28"
ARMBIKE KIT
The kit fits on different kinds of wheelchairs whether you have round of oval framework on your chair.
4 brackets mounted on the wheelchair and they are clamped around the frame.
There will be no damage to the wheelchair.
Adult model of armbike kitttet has 20 "drive wheel, 8 gears, handbrake, bell, reflex and the color is black. Weight approximately: 12 kg.
Child model by armbike kitttet has 16 "driving wheels, 0 gears, Handbrake, Bell, reflex and the color is black. Weight approximately: 8 kg.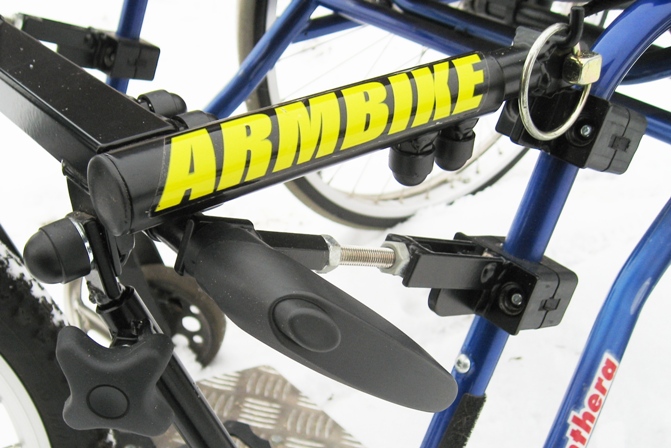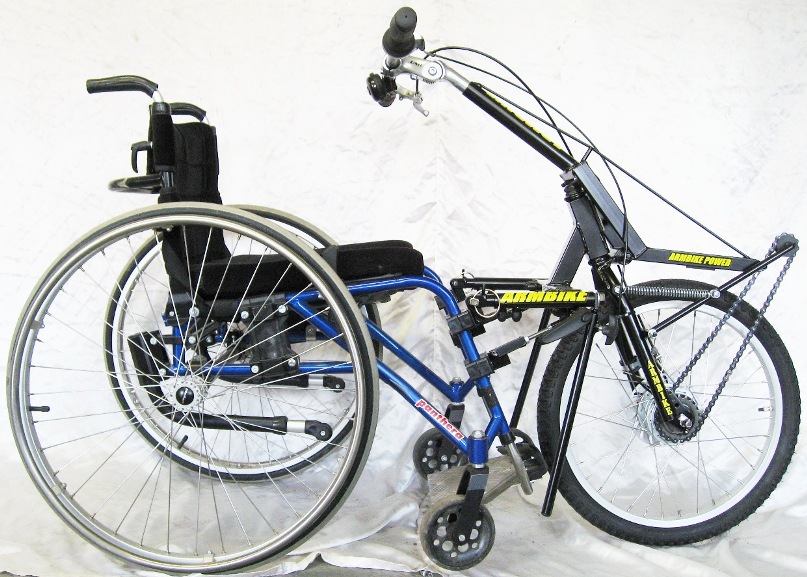 Armbike kit 20" mounted on a Panthera wheelchair
Riding with an arm with one hand handlebar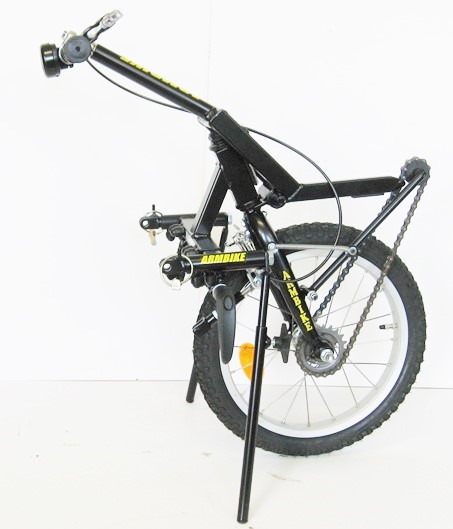 ARMBIKE KIT 16 "Art, No. 062 Suitable for children wheelchairs kind Panthera Bambino.
ARMBIKE KIT 16 " Mounted on a Panthera Bambino
1. Push off and remove the lower bracket. 2. Drop the bike guides. 3. Pull the pins. 4. Roll the wheelchair backwards.

See if your wheelchair fit: Fits your wheelchair

Installation of armbike kit for wheelchair:Brochure mounting kit
ARMBIKE KIT 20 "Art, No 61
Mounted on a wheelchair.
The bike has 20 "rear wheels with 8växlar
handbrake, bell and reflectors.
Weight bicycle part about 12 kg.
Colour: Black.
ARMBIKE KIT 16 "Art, No 62
Suitable children wheelchairs type Panthera Bambino.
The bike has a 16 "rear wheels with 0-speed,
handbrake, bell and reflectors.
Weight bicycle part about: 8kg.
Colour: Black.
Armbike is a private company located in Sweden.
The bikes are manufactured in Sweden. All bikes are black.
The frames are made of mostly rectangular steel tubes.
1 year warranty on manufacturing defects. All freight paid by the buyer.
If you are interested in knowing more or to order your own "Armbike Kit.
Read the file: Fits your wheelchair.
You can also read about what information I need about your wheelchair
Usually it takes 2-4 weeks from order to delivery.
But it depends on availability and where you wish to receive your product.
Email your address to get the right price and delivering time.
A tired but happy Thomas Dahlström after his first race with the new cycle.
Because of a difficult illness, he has become disabled.
But he decided right away that nothing would prevent him from doing what he wanted.
And just a week before the race around Österlen had got new cycle.
He immediately set in motion with the training and drove 28 mile.
On Saturday it was time 22 mile around Österlen. It was really fun.
I have discovered that I have muscles in his arms like he did not know he had, he says.
At one point I came up in the 44 km / h, he says.
Jan-Åke quotes: great invention! is there anyone who should have the Nobel Prize, it's Armbike inventor.

ARMBIKE
Petersburg Nordanå 234
744 97Järlåsa. SWEDEN
Phone: +46 18253533 / Mobil: +46 73096 0977
E-mail: arm.bike@hotmail.com
Patented Armbike Driving System ADS. Armbike its à Swedish made product